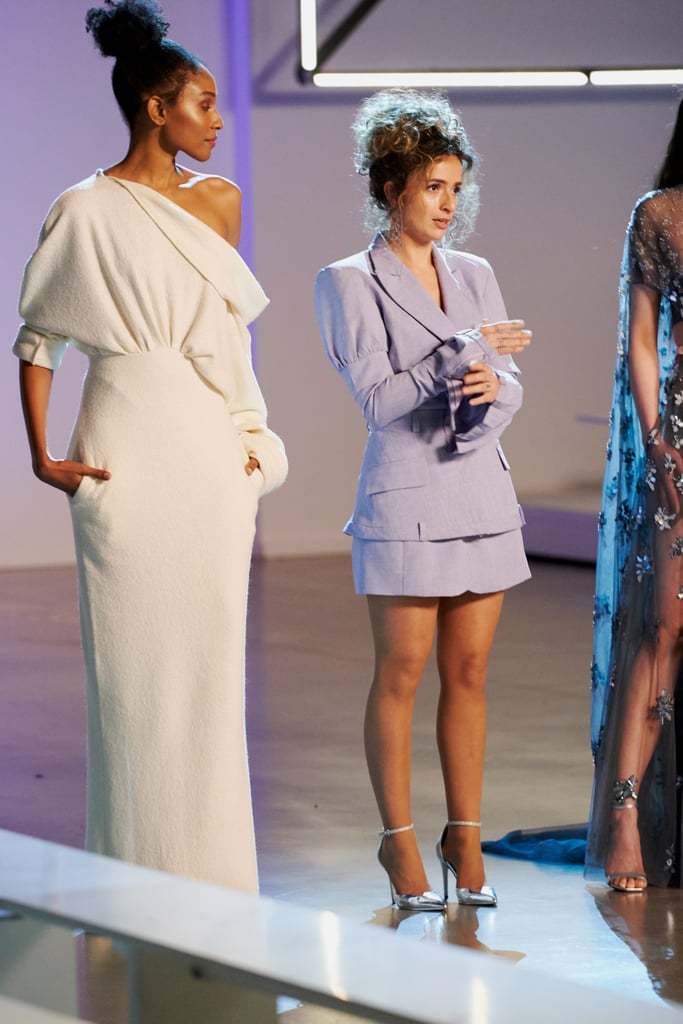 Why Project Runway Is So Much More Than a Reality Show

When I was invited to the taping of the Project Runway season 18 finale episode, 16-year-old me (who was obsessed with the show) internally squealed with glee. Now, as I near my 10-year mark of living in New York and working in the fashion industry, I have a greater appreciation for the work that goes into every decision and more deeply understand what the show means for an emerging designer.
Looking back, Michael Kors's cutting one-liners, Heidi Klum's designer send-off ("Auf Wiedersehen!"), and, of course, Tim Gunn's sharply delivered catchphrase ("Make it work") entertained me endlessly. But now, I have a different grasp on the industry and connection to the new wave of judges, host, and mentor, Christian Siriano (who as I'm sure you know is the season four winner).
I've interviewed Karlie Kloss on several occasions; designer Brandon Maxwell is one of my absolute favorites — his runway shows are always a highlight during New York Fashion Week; and I interned at Elle magazine upon graduating college when Nina García served as fashion director and shared a few elevator rides with her in the Hearst tower, too. I've admired Elaine Welteroth's career (and style!) and been in her presence at many an industry event, though I've never quite worked up the courage to introduce myself. Christian Siriano's collections are always a joy to witness in person, too. Every NYFW show sparks joy, from his signature dramatic proportions to his diverse casting, a movement which he's been at the forefront of.
My direct and peripheral relationships with the core cast members have absolutely given me a different perspective on the show. But even more, I think so much more deeply about what the competition means to the contestants vying for the grand prize (for season 18, that means $250,000, a feature in Elle magazine, a possible feature in a Bluprint digital series, and a mentorship with the Council of Fashion Designers of America — quite a package!). Of course, I now know firsthand how competitive and draining the fashion industry can be no matter what corner of the industry you work in; but for an emerging designer, I've learned the challenges they face to simply standout, let alone be awarded the opportunity to execute a creative vision on a grand scale, are astronomical. The access that Project Runway brings to these talents, from the resources to materials and mentorship, is unprecedented, not to mention the exposure of it all being televised to millions of viewers who quickly develop designer loyalties and champion the success of contestants season after season. It's so much more meaningful than an entertaining reality show.
After speaking to Maxwell and Sirano following the finale episode taping, I also understand the weight that the show carries for each designer judge and mentor as a fixture in the fashion industry. "I tell them the same thing I have to tell myself, 'You have to find a mirror, any mirror, and look at yourself in it and tell yourself that you're going to be successful and that you're going to fight and you're going to do your best,'" said Maxwell, who added how much it means to him to be able to also serve as a mentor for the contestants. "I know what they're going through and I know what it feels like. I feel like I'm able to give them the truth and I hope they appreciate that. My business is not that old. I'm really in real time doing it. So, I wanted to be able to bring something to the table, and I really enjoy it. I hope that they feel better for it."
As a former contestant, Siriano's perspective goes just as deep. "I hope that they feel like I can give them real feedback. I was on the show, but also, I turned it into a very successful business. I'm a working designer in it right now, so I hope that I can help them. I just showed a collection last week. I was just at the Oscars. I know something about what might work. So, hopefully, they listen to me." He added, "They're such a different generation now. They think about things very differently than I did in my day. There was no social media. It was so different. I think that they have to think a little bit about what happens afterward, which I was very conscious of. I was like, 'When this is over, I'm starting a business.' Otherwise, it doesn't sustain, and I hope that they think about that."
After witnessing the final four collections in person, it seemed as though the final four contestants — Victoria Cocieru, Sergio Guadarrama, Nancy Volpe-Beringer, and Geoffrey Mac — took much of what Maxwell and Siriano said to heart throughout the season. As a result, all of the judges (including Serena Williams as a guest for the finale episode) seemed impressed. "I think there were a lot of really beautiful clothes today," Siriano said. "I thought a lot of them looked very expensive. Nancy's inclusivity was beautiful . . . Victoria's sweater dress was stunning . . . I thought Sergio's embroidery was really beautiful and Geoffrey's [collection] was very powerful."
Maxwell, who met with the designer contestants a couple of days before the finale taping, had a very encouraging response as well. "I was like, 'Listen, this is the final stretch. This is the moment, and you're only going to be as great as you allow yourself to be and allow that to be the best. You know what I mean? I think they did that."
Ahead, see every look from the final four collections from Project Runway season 18, from sustainably made clothing to avant-garde designs. Though Geoffrey is taking home the grand prize, I'm hopeful for the success of all four finalists.
Source: Read Full Article