Brad Pitt is the man of the hour. After years of navigating his rocky private life, the actor resurfaced with a spellbinding role as Cliff Booth in Once Upon a Time in Hollywood. The Quentin Tarantino flick — and Pitt's work — garnered rave reviews from fans and critics alike. The mega-star has reportedly been eyed for roles in Marvel Cinematic Universe. Would someone with Pitt's resume even fit?
Would Brad Pitt's Hollywood image suit MCU?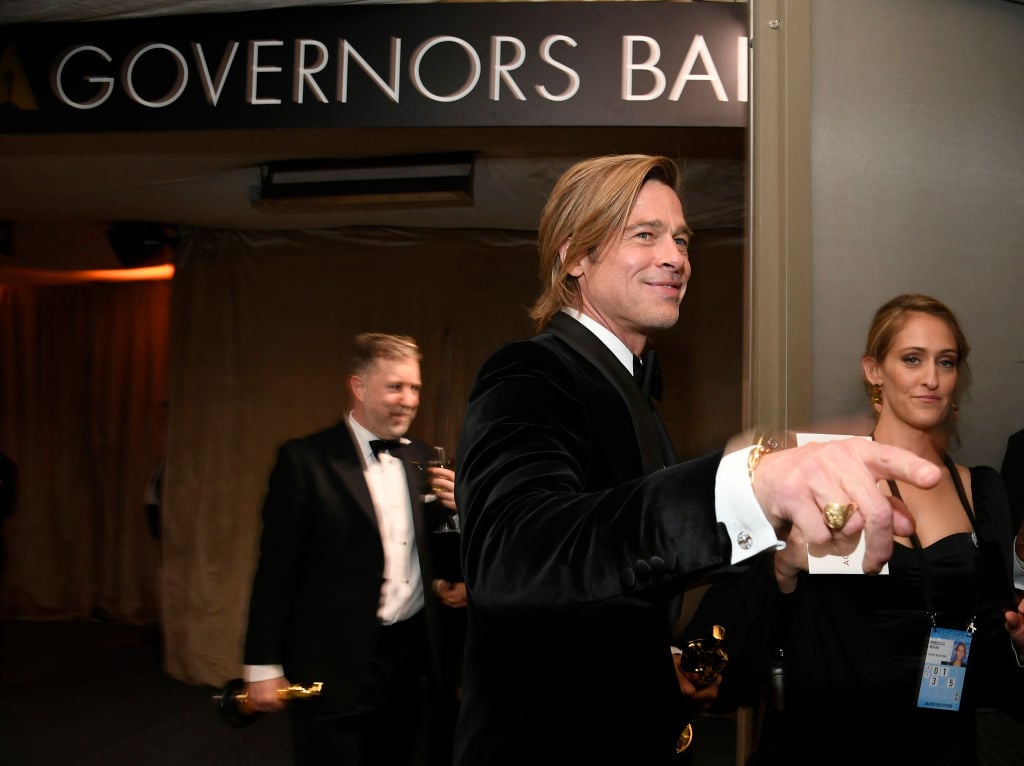 It's hard to believe Brad Pitt's first role was an uncredited "boy at the beach" in the 1987 comedy, Hunk. Since then, the Missouri actor has come a long way.
Pitt worked in 1987 through the early '90s with bit roles and small parts. His "claim to fame" was as J.D. in the 1991 runaway hit, Thelma & Louise. Pitt's character is memorable to this day due to his chiseled good looks and striking screen presence.
That small role opposite Geena Davis and Susan Sarandon catapulted Pitt into bigger projects such as A River Runs Through It, Kalifornia, and Interview With the Vampire to start. Then the star seamlessly transitioned to Se7en, Legends of the Fall, 12 Monkeys, and Meet Joe Black.
The Golden Globe winner's image has managed to survive public marital and custody struggles. He's is one of the few Hollywood icons who has sustained, regardless of box office fails and mass hysteria. His down-to-earth likability makes Pitt a prime option for a cinematic franchise as large as Marvel, but is it feasible?
Pitt has already worked in one Marvel movie but was it enough for more?
Pitt appeared in 2018's Deadpool 2 with a brief cameo as an invisible mutant Vanisher. It happens in the instant he's being electrocuted. This surprise appearance struck a nerve within both the Marvel and Pitt fanbases. Could the Fight Club actor ever play a bigger role in MCU?
Sources close to We Got This Covered previously said the studio had been eying Pitt for the role of a villain, such as Annihilus, Kang the Conqueror, or Doctor Doom. However, they've also considered others for the same roles, so it's merely speculation as to whether Pitt is a done deal.
The same site recently revealed Marvel Studios and Kevin Feige reportedly have Pitt in mind for the role of Hyperion — the MCU version of Superman, a hero in charge of Squadron Supreme. The group is similar to Justice League and includes characters resembling DC heroes.
The site also noted that it's entirely possible for Pitt to do both, just as Josh Brolin did as Thanos (Avengers) and Cable (Deadpool). Hyperion's origin story has many different variations, but he's typically considered an Eternal.
The Eternals, which Pitt's ex-wife, Angelina Jolie has been cast in, is due out soon. MCU's decision regarding Pitt's possible casting should come sooner than later if they're to introduce him into that particular storyline.
Could Pitt pull off a big MCU role?
Reports about the Phase Four Hyperion movie surfaced in April 2019. It was around the time Squadron Supreme was reported. Regardless of which role Marvel might pitch to Pitt, casting him in another Marvel iteration after his Deadpool cameo isn't that much of a leap.
Pitt may not have experience acting in a comic-to-screen-type of the role but he's versatile enough it could work. Ben Affleck, Chris Hemsworth, Robert Pattinson, and Robert Downey Jr. hadn't worked on a project similar to DC or Marvel before landing their leading roles. It only takes one.
It's not confirmed whether Marvel Studios have formally offered a role to Pitt, or if he'd take it if/when they do. But, it'd shake things up on the actor's resume, opening doors to more movies in the franchise. Plus, fans might want to see the actor get into crime-fighting shape and suit up, if only for personal reasons.
Source: Read Full Article