Welp, now that Prince Harry and Meghan Markle are trying to live their most normal lives possible in Canada after fleeing from stepping back from their royal duties, I guess it's fair that they'll start getting treated like true non-royals, right? In addition to losing their lofty HRH (His and Her Royal Highness) titles and their "Sussex Royal" trademark, Meghan and Harry will also be losing their government protection in Canada, too.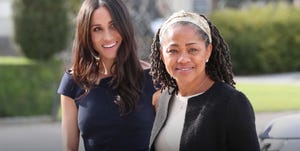 Earlier today, the Royal Canadian Mounted Police (RCMP) announced that the protection they have been providing Meghan, Harry, and their son, Archie with since November will officially cease in March. It's unclear exactly when that will happen, but Public Safety Minister Bill Blair says the service will stop "in the coming weeks" to coincide with their final date of active royal service—March 31.
The RCMP issued a statement through CBC about the matter, and wrote:
Now that Meghan and Harry's security costs will be dropped from Canada's tab, having protection remains a responsibility of their own. On their Sussex Royal website, Meghan and Harry stated:
This basically means Meghan and Harry will have to pay for security by themselves. You know, like regular people! Honestly, God bless these two, but I am sure they'll be juuuuust fine.
Source: Read Full Article