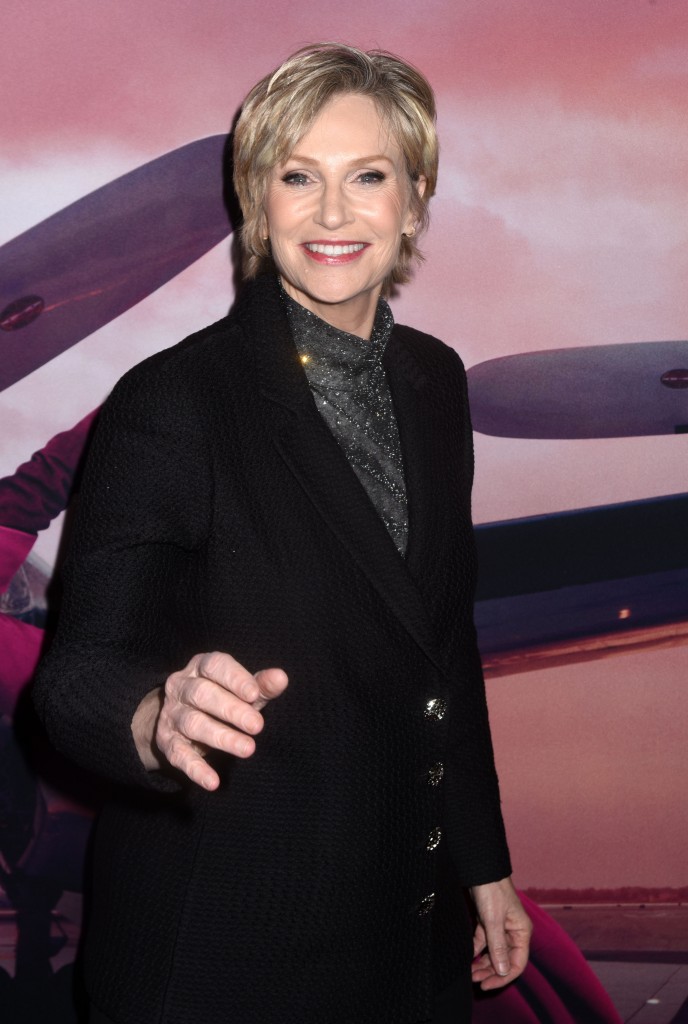 Last summer we talked about Jane Lynch and her girlfriend, Jennifer Cheyne, adopting senior dogs so they have a loving home for their final years. Because they only have their precious pups for a few years, they've been fortunate enough to welcome many into their home. While appearing on The Tonight Show, Jane and Jimmy Fallon bonded over the fact that they both have dogs with human names. Jimmy has a (girl) dog named Gary and Jane is mom to Mildred, but she's also had Kevin, Millie, Benjamin, Olivia and Bernice. The reason Jane names her pets "people" names is because she knew she'd never have kids to name, so she gave all her baby names to her fur babies instead.
The first dog I had in college was named Kevin. We've had many dogs because we adopt seniors and we only get to keep them for a few years. We have many human names because I knew I wasn't going to have kids. Right now we have Millie/Mildred, we had a regular Millie about three dogs ago, Benjamin, Olivia, Bernice just passed away.
[From The Tonight Show with Jimmy Fallon]
I just checked Jane's IG and I believe Mildred is the only dog at home right now. Millie and Bernice were the two she posted about prior. Millie passed in 2019 and the last shot of Jane with a dog was with Bernice, who Jane told Jimmy recently passed. It would be hard to only have a few years with a dog but if you know that's all you get going into it, I bet you can make the mental adjustments you need. It's is such a loving act Jane and Jennifer are doing for these dogs. If I have the resources for the medical care later in life, I hope I can make this same pledge for either dogs or cats.
As for the names, I love them, and I love her reasoning. My dogs also have human names but that's because they are named after humans, so it's not quite the same. My boy, Truman, is Pres. Harry S. Truman, but his rescue name was True (and my friend's dog is named Harry) so we decided to call him Truman. And the girl is Dorothy, but she's named Dorothy Gale after the protagonist in Wizard of Oz. But the effect is the same when you are talking to them them and the telemarketer on the phone doesn't realize it isn't a human child being told not eat the couch pillow. Or when you casually mention to a neighbor who doesn't know you well that you are so embarrassed that your sweet Dorothy peed on the mailman. The look is priceless.
And speaking of adopting dogs with human names: how about adding Oscar or Jin to your family? I'm very fortunate to volunteer on the adoption team for the DoVE-Project, who rescues dogs from the meat trade in Korea. These two are not only truly special but already in LA. Check out their IGs below and click their names for their Adopt a Pet pages. You can hit DoVE up on Insta or me up on Twitter with questions and please pass these on to anyone you think might be interested.
Meet OLIVER! Oliver's been leaning into LA Lyfe by working on himself and getting in touch with his true Good Boy side. Now he's happy to strut about town, stopping for the occasionally puppacino and gossip – which makes him a perfect fit for a CBer:
A post shared by DoVE Project (@dove_project)
Jive with Jin, our peace seeking pup. He's earned top marks from our trainer and is looking for a safe and calm home, preferably without young children as Jin thrives in mellower environment (I hear ya, Jin). We can always send more pics and video if anyone is interested.
https://www.instagram.com/p/CIgeqE6FIOT/
A post shared by DoVE Project (@dove_project)
Look at Mildred hanging out with Jane's girlfriend Jennifer!
https://www.instagram.com/p/CJEqrhVBBZI/
A post shared by Jane Lynch (@janelynchofficial)
https://www.instagram.com/p/B_G2w5NJnLF/
A post shared by Jane Lynch (@janelynchofficial)
Photo credit> Avalon, Instagram and You Tube
Source: Read Full Article