In his ongoing libel trial against The Sun, Johnny Depp is trying to prove he isn't a "wife-beater" as he was labeled in an op-ed headline.
And while it may not be easy to completely exonerate himself in the public's eyes, as more and more dirty laundry is aired it's becoming clear he isn't the only spouse who should be worried about a reputation as a domestic abuser.
We've already heard Amber Heard admit to hitting her ex-husband in leaked audio of their private conversations and then try to contextualize and redefine those actions in video deposition. And of course, we've heard Johnny testifying on his own behalf, telling his version of events in which he was allegedly struck and bullied.
But now for the first time, we have a third party witness who actually claims to have observed abuse in the marriage — at Amber's hands, that is.
Most recently put under the microscope were the events of March 23, 2015. The actress claimed Johnny grabbed her by the hair and hit her during a fight at their apartment in the Eastern Columbia Building.
Sasha Wass, attorney for The Sun parent company NGN, said the fight got intense after "Miss Heard accused Mr Depp of having an affair with someone called Rochelle." Apparently she found texts from this woman on his phone. Amber's claim is that security had to be called to protect her and her sister Whitney from Johnny.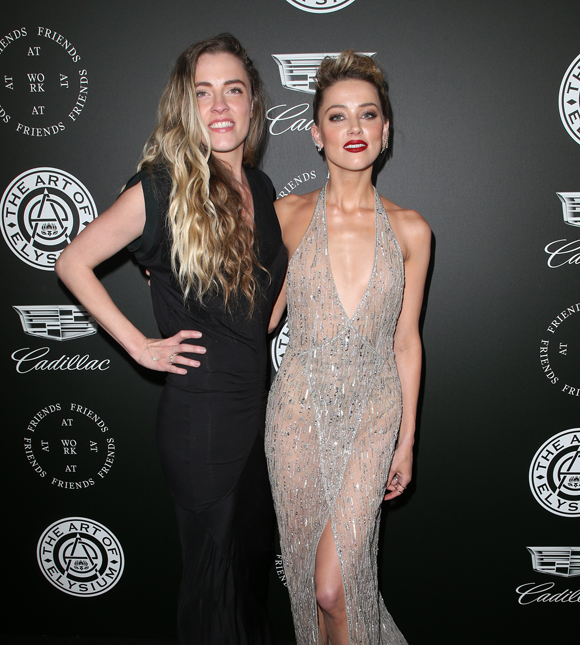 But the written witness statement of Travis McGivern, a security guard who was working at the residence on the day in question, was released on Friday, and it pretty clearly supports Johnny.
McGivern, who worked for the Pirates of the Caribbean star for nearly seven years, throughout the entire marriage, said Mr. Depp called him to come to the apartment and bring a nurse, one Debbie Lloyd.
When he arrived he says he heard a "verbal argument." Initially, he stood outside the door, giving the couple their privacy until he felt it necessary to intervene "when the argument got louder and more intense." After entering he claims to have witnessed acts of violence:
"At some point approximately 30 to 45 minutes after my arrival, Ms Heard threw a full can of Red Bull that hit Mr Depp in his back."
A full can?? Geez. Not a far step from the glass bottle Johnny claims she threw on another occasion, severing the tip of his finger.
McGivern explained his next move was all about protection — of Mr. Depp:
"After Ms Heard threw the can of Red Bull, I recognized that Ms Heard had access to a variety of other items that she could throw from her position. I therefore moved next to Mr Depp to ensure that he would not get hit by anything else."
He also claims Amber SPAT on Johnny:
"At this point, Ms Heard was standing on the landing above Mr Depp and I witnessed her spit on Mr Depp from above."
Considering what she allegedly did to their bed it could have been worse.
In all seriousness, McGivern described some really disturbing violence, saying:
"Ms Heard also tried to throw her purse at Mr Depp, but I deflected it mid-air. Approximately 10 minutes before we left, I witnessed Ms Heard punch Mr Depp in the eye with a closed fist."
He says he waited until he saw Amber and her sister leave before exiting himself. In the entire time he was there, he asserts, the claims by Amber that Johnny had to be pulled off of her or her sister were false:
"Once again, this did not happen and at no point did Mr Depp hit Ms Heard."
Once Ms. Wass was able to question McGivern via video link, she actually admitted Heard hit Johnny! However, she wanted to clarify it was in defense of her sister, something the security guard denied:
"She was the only one who was being physically aggressive. He (Depp) did not touch Miss Heard or her sister."
Ms. Wass replied to McGivern:
"You are lying about your description in order to assist Mr Depp who was extremely angry and violent on that occasion."
Huh. If he is lying for Johnny, he is far from the only one.
Another witness statement released Friday was that of longtime friend Isaac Baruch, who lived in the penthouse of the Eastern Columbia, along with Amber's sister and friends Rocky Pennington and her boyfriend Josh Drew.
He claims Johnny told him way back in 2013, at the beginning of their relationship, that Amber was abusive:
"Within the first year in 2013 of living in the Eastern, Mr Depp one day knocked on my door to visit. He said, 'l don't know what to do.' l said, 'About what?' He said, 'She likes to argue and she likes to hit'. I said, 'what do you mean, sexually?' He smiled and said, 'No. She just wants to argue about stuff all the time and then she'll start hitting me.'"
All the way in 2013. These two should not have gotten married. He continued:
"I was kind of surprised when he said this and I asked almost disbelievingly, 'you mean like playful hitting or hit hitting?' He said, 'Yes, she argues and then she'll just start punching me and wants to fight. I'll try to stop her but she just keeps going to the point where I just stop trying to stop her and say OK, go ahead do your worst, get it out of your system.'"
But he wasn't just testifying about Amber allegedly being abusive — but about the abuse she claims to have suffered.
He says he saw her right after the infamous 2016 phone incident and that he saw Amber the next day, and she told him Johnny "had come by the night before and got violent" and that she was changing the locks. She told him what she eventually told the public, that her then-husband "hit her in the face and threw a phone at her."
However, he says he did not see the marks she showed in those infamous photos.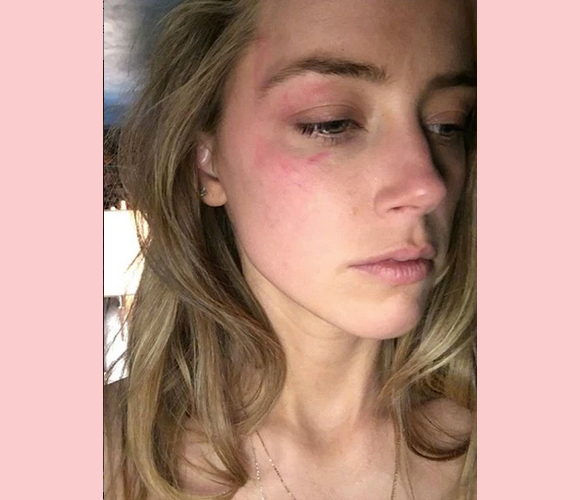 Baruch claims:
"With lights from the hallway and the sunlight that came in through the windows from Penthouse 1, which filled the room and spread into the hallway, it was very easy for me to get an excellent view of Ms Heard's face. I literally was around 12 inches from her, inspecting her face and I did not see a single mark or evidence of any marks, bruising, or swelling of any kind anywhere on her face. She also definitely didn't seem to be wearing any makeup at this time of day that could cover any marks or swelling. Her face looked to me just as natural and normal as all the other times I've seen it over the past three years while hanging out together around the apartments."
He goes on to say he saw her multiple times throughout that week and never saw any marks.
In fact, he called the photos of Amber's face — including a new one which you can see on DailyMail.com — "phoney baloney."
What do YOU think of these latest witnesses for Johnny?? It's hard not to question the validity of someone on Depp's payroll, but how about Baruch's testament?
Related Posts

Source: Read Full Article