A former star on The Real Housewives of Beverly Hills, Yolanda Hadid has had a boyfriend since 2018. By all accounts, they're quite happy. The Dutch former model and TV personality started dating Joseph Jingoli not long after her second divorce back in 2017. Romantic pics on social media show big smiles and coordinated outfits between the pair.
The world knows Hadid's new beau as the CEO of a construction and development company. But what do we really know about Jingoli? How did the two meet? And does he mind all of the fame associated with Yolanda and her supermodel daughters, Bella and Gigi Hadid? Let's go over all of the details.
Yolanda Hadid's past marriages
When it comes to Yoland's past relationships, according to Heavy, she's been married twice. She wed Mohamed Hadid in 1994 and the former couple has three children together: the aforementioned Gigi and Bella as well as Anwar Hadid. At that time, Yolanda became stepmother to Hadid's daughters Marielle and Alana. 
She and Mohamed divorced in 2000. Some time passed before Yolanda married again — this time in 2011 to musician, composer, and producer David Foster. The 16-time Grammy Award-winner had already been married three times before Yolanda.
During this relationship, she became a naturalized U.S. citizen and was diagnosed with Lyme disease. The marriage ended in divorce in 2017, with Yolanda citing the difficulties of her diagnosis as a contributing factor.
In 2020, Yolanda became a grandmother. She has one grandchild so far, thanks to daughter Gigi and former One Direction member, Zayn Malik. 
How did Yolanda Hadid meet boyfriend Joseph Jingoli?
In September 2022, Yolanda posted a romantic picture of the couple on Instagram to mark his birthday. In the image, the couple shares a kiss while wearing coordinating outfits of blue jeans and button-up shirts, enjoying a beautiful day on a farm. In a second image, the couple stands together next to two horses as they prepare to take a ride. The caption said, "Happy birthday my love."
Yolanda and Joseph actually met on a farm. She was recovering from Lyme disease on her farm in Pennsylvania at the time. The now-58-year-old explained, according to Heavy, "I really started focusing, I made a love spiral and wrote down exactly everything that was important to me in a man and he magically just rang the doorbell at the farm."
Yolanda and Jospeh have dated for over three years now.
Aside from being a businessman, Jingoli is also president of The Farm Team, which he bought with his brother 15 years ago. The nonprofit organization is based in New Jersey and helps young adults recovering from addiction. Using unique farm experiences, the organization offers mentoring and skill-building opportunities as well as partial tuition assistance.
Jingoli is estimated to be worth $40 million.
Yolanda Hadid's three famous children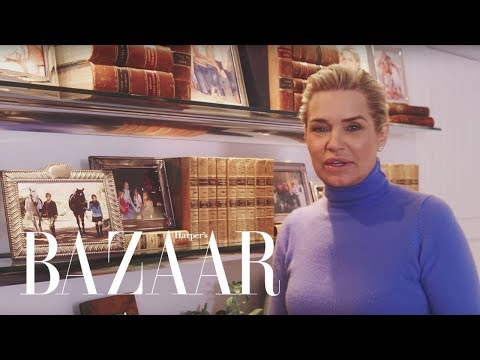 Yolanda's oldest daughter Gigi dated Malik for six years. They have a child together and also got into their share of fights. Unfortunately, Yolanda got pulled into the drama. 
Last October, Malik pleaded "no contest" to four counts of harassment against Gigi's mother. The 29-year-old received a sentence of 360 days probation and required enrollment in programs for domestic violence and anger management. Malik expressed frustration that Gigi wouldn't stand up for him to her mother.
The singer explained, according to Glamour, "For the sake of my daughter, I decline to give any further details and I hope that Yolanda will reconsider her false allegations and move toward healing these family issues in private." The couple parted ways last October.
Hadid's daughter Bella has enjoyed a meteoric rise to fame as a dazzling model. After managing to keep a lid on it for a year, the word is out now that her latest boyfriend is 33-year-old Marc Kalman. They are said to have met in New York City and even with an eight-year age difference they are reportedy happy together.
Hadid's son Anwar is a model too. He's been in a long-standing relationship with pop star Dua Lipa. Anwar reached out to the beautiful "New Rules" singer after hearing she'd ended her relationship with Isaac Crew, her boyfriend of five years. They were in the same social circles, and Anwar was a huge fan of her music so he took a chance. The pair have been together (off and on) since 2019.
Source: Read Full Article