It's no secret Meghan, Duchess of Sussex loves food and cooking. Before becoming a British royal she shared recipes on her now-defunct lifestyle blog, The Tig. The 39-year-old also cooked on talk shows and discussed recipes in magazine interviews. In one of her pre-royal chats, Meghan shared what ingredient she uses to perk up the flavors of a dish.
Meghan Markle is a self-proclaimed 'foodie'
Meghan loves to cook and entertain. It all started childhood afternoons spent in craft services on the set of Married… with Children." Meghan's dad, Thomas Markle, handled the show's lighting.
When Meghan would go to the set with him after school, she'd hang out where the food was prepared to avoid the show's mature content. That combined with the travels she did with her mother, Doria Ragland, who used to work as a travel agent, spurred Meghan's interest in food. 
Food's such a big part of Meghan's life it became part of her career as an actor. Her Suits character, Rachel Zane, became obsessed with food because of Meghan.
"I love to cook," she told Marie Claire in June 2013. "My character is a foodie because they know that I'm a foodie. I'm always on the quest to find amazing new restaurants and new recipes," she said.
Meghan Markle once said she uses Maldon Sea Salt 'endlessly'
In her pre-royal life, Meghan discussed all things food with The New Potato. Asked to name an ingredient she thinks makes everything better, she didn't hesitate to name salt. But not just any salt, Maldon Sea Salt Flakes.
"Maldon Sea Salt brightens every dish. I love it and use it endlessly," she said.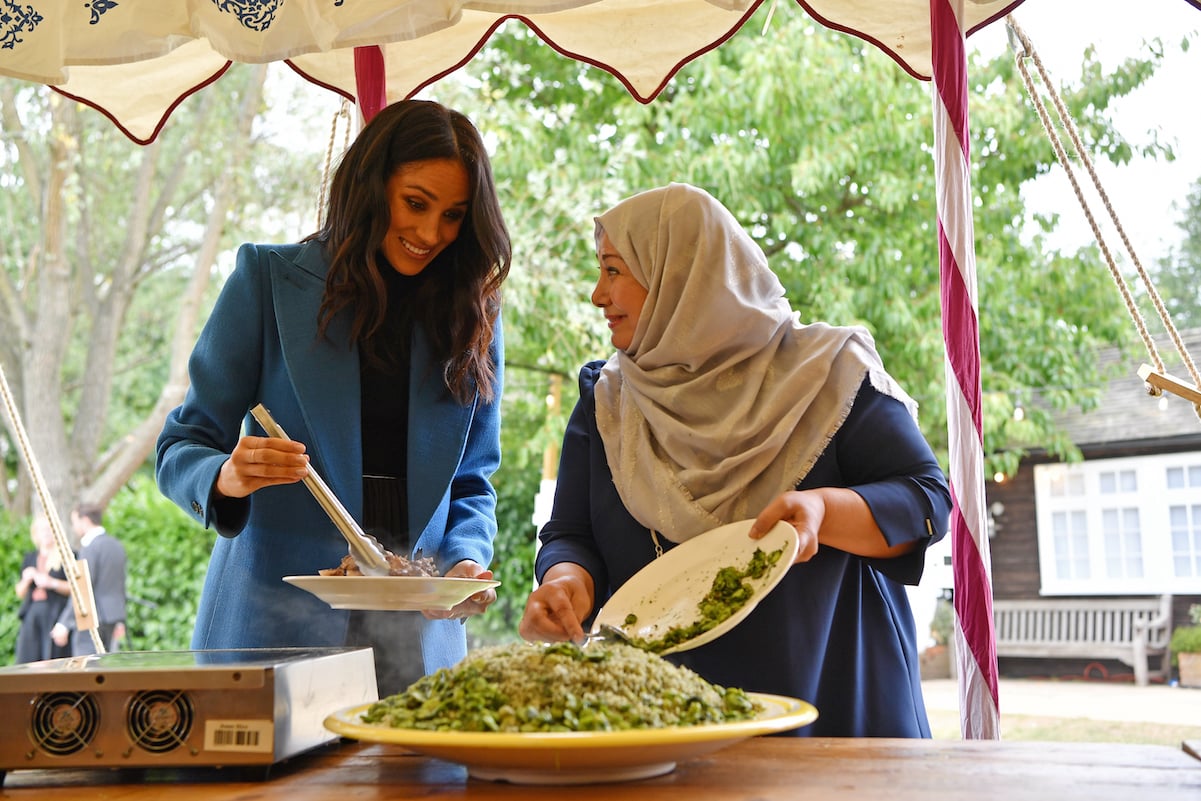 So take a cue from the 39-year-old Duchess of Sussex and sprinkle Maldon Sea Salt Flakes on food to eat like royalty. Meghan even shared one way she uses it. She named "sliced apples with almond butter sprinkled with sea salt" as one of her go-to snacks on the set of Suits.
Best of all, Maldo Sea Salt Flakes won't break the bank. An 8.5-ounce package goes for $6 on Amazon. 
Meghan Markle's not the only celebrity who loves Maldon Sea Salt
Sea salt flakes, especially from Maldon, are a staple in many celebrity chef kitchens. Ina Garten, the cookbook author and longtime host of Barefoot Contessa, stocks her kitchen with them. In fact, she's called salt the single most important ingredient in any dish.
Garten keeps Maldon Sea Salt Fakes — and two other types of salt — in her pantry. When it comes to flakey sea salt, the Barefoot Contessa uses it to put the finishing touch on a dish.
"When I'm doing a pastry crust, like a chicken pot pie or something, I'll brush it with egg wash and just sprinkle it with salt and pepper, and that flaked salt just looks gorgeous and that crunchiness tastes great," she said in a YouTube video for NYT Cooking.
Source: Read Full Article