Drummer Taylor Hawkins didn't play on his all-time favorite Foo Fighters song. By the time Hawkins joined the band in 1997, Foo Fighters had already released two albums and recorded half of another. However, Hawkins had been a huge fan of Foo Fighters' music for years. He never forgot the first time he heard the group on the radio.
In the wake of his death, it's hard to imagine Foo Fighters without Hawkins.
The drummer joined Foo Fighters in 1997
In 1995, Hawkins became Alanis Morissette's touring drummer. He backed the singer during her 18-month tour supporting Jagged Little Pill.
"It was so much fun," Hawkins told Kerrang!. "She gave me a lot of space to do what I wanted. It was probably the biggest album of the year, and there was a lot of pressure on her. She was having to learn to be this leader on the job, which isn't easy. But it was really one of the most fun times of my life."
However, fate threw a spanner into the mix. Hawkins met Foo Fighters frontman Dave Grohl, and it was life-changing for the pair. Grohl said it was like meeting a long-lost brother.
Hawkins told NME, "When we met, we just thought, 'We're brothers from another mother!' It was instantaneous – so much so that Alanis Morrisette just said, 'What are you going to do when Dave asks you to be the drummer in the Foo Fighters?'"
Then, suddenly in 1997, Foo Fighters' drummer left. Grohl called Hawkins to see if he knew of any available drummers, thinking that Hawkins didn't want to leave Morissette. However, Hawkins did. He called Grohl and auditioned. After three seconds of playing, Grohl knew he wanted Hawkins in the band.
When Hawkins joined Foo Fighters, it was intimidating. How do you be the drummer for one of the best drummers of the 1990s? However, he found his place eventually.
Taylor Hawkins didn't play on his all-time favorite Foo Fighters song
Speaking on Apple Music 1 (per Kerrang!), Hawkins revealed he didn't play on his all-time favorite Foo Fighters song. It was the opening track on the band's 1995 self-titled debut, "This Is A Call."
"I could also say the first time I heard 'This Is a Call' was the first time I heard the Foo Fighters and I wasn't in the band yet," he explained. "I was playing with Alanis [Morissette] and we were all in the van, traversing the Foo Fighters, playing all the same clubs as they were.
"And it was just funny, and we just wore that album out. And 'This Is a Call' might be my favourite Foo Fighters song of all time, too."
Hawkins also revealed that he loved "Aurora," from 1999's There Is Nothing Left To Lose.
"I love that side of Dave [Grohl]," he said. "I love it when Dave gets in his almost yacht rock softness in his voice and he double tracks his voice really nice.
"And that was the first drum track that I ever did for the Foo Fighters that I was really, really proud of, because I only played half the drums on the 'Nothing Left To Lose' record, because it was my first time in the studio and I was just… I didn't know how to record."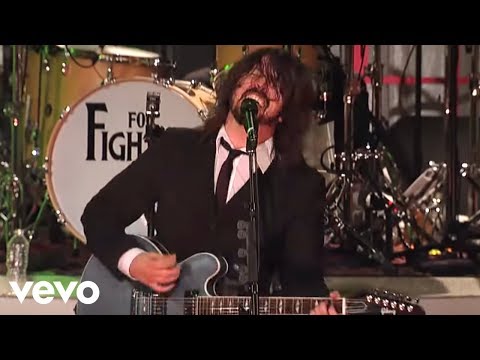 Hawkins said the worst Foo Fighters song was a 'total cop out'
Meanwhile, Hawkins had a problem with one Foo Fighters song. He thought "The One" was the worst. The band recorded the track for the soundtrack of the 2002 comedy film Orange County.
"I've always hated this song," Hawkins told Kerrang! (per NME). "I hate the way it sounds, the production of it; it was a total cop out.
"We were really trying to finish [fourth album] 'One By One.' I liked the messed-up ugliness of that record, but we got asked by Tom Hanks' son Colin Hanks to do the song for this movie called Orange County. Dave wrote it, I wasn't crazy about it.
"It was straight-up pop – and there's nothing wrong with that – but we were still trying to figure out how to be the Foo Fighters."
As Hawkins said, Foo Fighters were still trying to figure themselves out in the early 2000s. In 2021, Hawkins told Rolling Stone that he bugged Grohl and the rest to practice more after joining.
When Foo Fighters recorded "The One," it also hadn't been long since Hawkins threatened to quit the band after an argument with Grohl. However, Foo Fighters found their way. They now have more Grammy awards than any other American band.
Source: Read Full Article