Former bachelor Peter Weber has been spending some quality time with Kelley Flanagan ever since he and Madison Prewett decided to go their separate ways.
He told Nick Viall on The Viall Files that he and Flanagan just kept running into each other after they wrapped filming–first at the Super Bowl, then out in Los Angeles with friends. When they saw each other in LA, Weber got her number and they started reconnecting from there.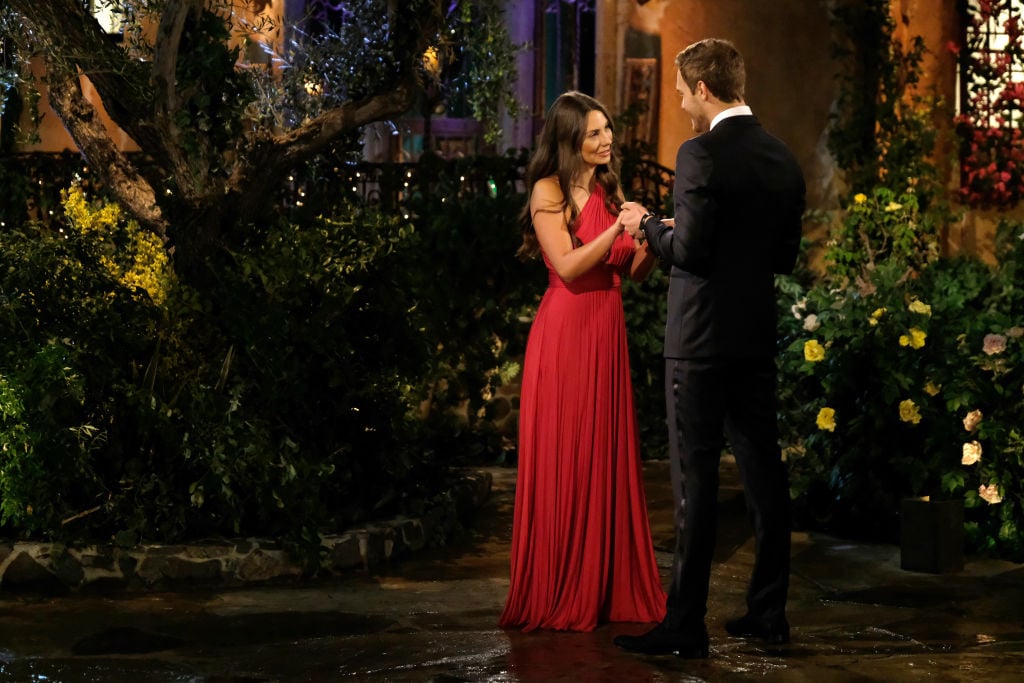 While the pilot maintains that he and Flanagan aren't officially dating (because he needs to do some healing and reflecting after everything that happened during his Bachelor season), he does say he sees a future with her.
The Webers love Kelley Flanagan
It seems that Barbara Weber and Peter Senior also see a future with Flanagan. Barb's made it abundantly clear that she's a fan of the attorney.
She commented:  "We need to do lunch and go shopping for the day. ❤️" on the above Instagram photo of Flanagan, and Weber confirmed that his mom's a fan (which is more than he can say for his last girlfriend).
"I don't know if it's the Chicago thing, Chicago ties. She's from Chicago, not too far from where Kelley lives out here. So, yeah, definitely likes Kelley. Listen, we'll see where it goes," he told Viall of his mom's feelings toward Flanagan.
Peter Weber Sr. thanks Kelley Flanagan for wishing him happy birthday
Just like his wife, Peter Sr. also appears to be close to Flanagan. Weber posted a happy birthday video to his dad on Instagram that included Flanagan and Dustin Kendrick (who Weber's also isolating with).
"Happy Birthday Capitan! We wish we could be there with you today celebrating @747flyr but we're there in spirit! We love you!" he captioned the video and tagged his mom, Flanagan, Kendrick, his brother, and his brother's girlfriend.
"Thank you all sooooo much for this fantastic Birthday greeting. I love you guys all so much. We'll celebrate in person soon hopefully.❤️" replied Peter Sr.
In the comments, Flanagan added an additional birthday comment: "Happy birthday @747flyr ♥️♥️"
"thanks so much for the wishes Chop Chip. Miss you guys ❤️" he replied. Flanagan introduced herself as "Chop Chip" in the video, so the nickname seems official.
While some fans were supportive of Flanagan's appearance in the video ("@kelleyflanagan you and peter ❤️❤️❤️ love it"), others weren't so much.
"She is very sneaky. That says a lot about her. Sisterhood comes before anything, like don't be a backstabber, especially to one of your closest friends. It is disappointing," wrote one fan.
In his interview with Viall, Weber said that he and Flanagan were never going to make it work on The Bachelor. He says the attorney wasn't a good fit for the show, calling her "too smart." While they're not dating right now, it seems like they're well on their way there. At the very least, it definitely seems like they have Weber's parents' blessing.
Read more: 'Too Hot to Handle': Harry Slams Kelz for Shooting His Shot With Francesca–'Kelz Was a Bit Like a Dog With a Bone'
Source: Read Full Article